POS Systems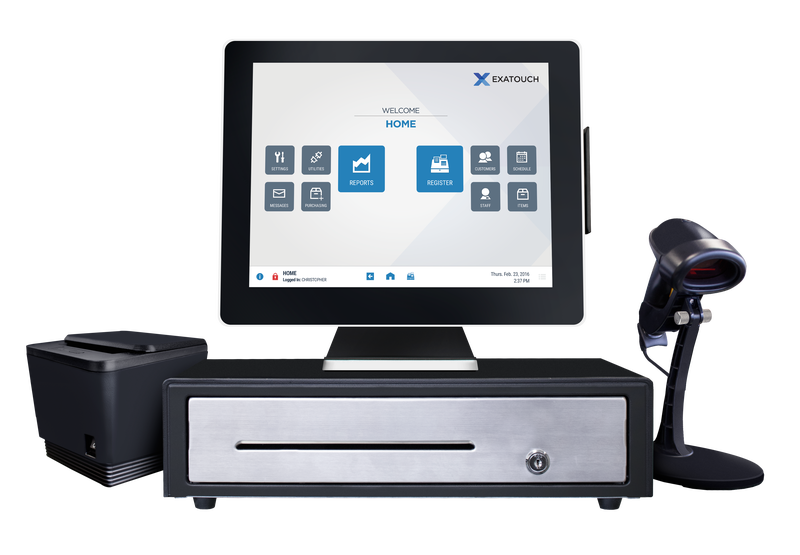 POS Systems
POS system of credit card processing or a computerized cash register with broad inventory and reporting capacities
We can incorporate with multiple POS systems in the market today
Effective for retail environments which has huge inventory, bars, restaurants with massive menu lists and the industry of hospitality
We can assist you in navigating the POS products in the market if you are planning to upgrade or looking for a new system to invest on
Advance your business potential with a winning combination of payment technologies and services. Exatouch® POS System is a complete point of sale system that includes all the equipment, tools, and support you need in one convenient, cost-effective package. Oversee employee, customer, and vendor management, while gaining greater insight into your overall business performance with real-time stock counts, purchasing trends, and more! See for yourself how Exatouch is taking businesses like yours to the next level!
DESIGNED FOR YOUR BUSINESS
Perfect for restaurants, retail merchants, liquor stores, salons/spas, convenience stores and more, Exatouch is so much more than your standard POS. Find out how this full-featured business management solution saves time, money and enhances overall operations – no matter your business type!
Hardware
Exatouch is a modern high-performance system designed to endure. Our "all-in-one" Exatouch packages come with an LCD touchscreen and all the peripherals needed to effectively manage operations.
Rich Software
You want it, Exatouch has it: employee and customer management, inventory, appointment scheduling, table mapping, purchasing abilities, gift card support and more!
Effective
Now, the upfront investment for a complete POS system doesn't have to break your budget. Our comprehensive packages include the hardware, software, support and upgrades at a competitive price point.
Setup and Training
Setup has never been so easy. We'll preload your menu and inventory into your system and make sure you know how to take advantage of Exatouch's many features.
Backup
The days of worrying about losing data are over! With daily Cloud backup, your data is accessible and securely stored at all times.
Support for EMV and Apple Pay™ Transactions
You can rest assured that your business is protected against potential fraudulent transactions and ready to accept the most secure forms of payment.

Clover® is transforming businesses from the ground up! Providing everything you need to accept more payment types, increase efficiency and improve operations, Clover has you covered for years to come!

Advanced Design
All Clover devices employ a sleek, modern design in a compact footprint, eliminating clutter and occupying less counter space than traditional POS systems. At the same time, Clover products are made with the highest quality materials, including durable brushed aluminum and Antimicrobial Corning® Gorilla® Glass.
Future-Proof Solutions
All Clover products are ready to process EMV, NFC/Apple Pay™ and PIN Debit right out of the box!
Clover® App Market
The Clover App Market is constantly evolving. Customize Clover to your specific needs now, tomorrow or years down the road with intuitive apps and receive automatic software updates!
The Cloud
All Clover products operate on a cloud-based platform, allowing you to manage your business from anywhere! Plus, Clover does not store sensitive cardholder data in the hardware, so in the event of a loss of power or unforeseen circumstances, your data is backed up and securely stored in the Cloud.
Security
Each Clover Station is fitted with a built-in encrypted swiper and includes breach coverage and IP scanning. You can rest assured that Clover is equipped to protect every transaction.
THE CLOVER FAMILY

Clover Station
Developed by some of the best industrial designers, Clover Station is built specifically for point of sale. Its performance lives up to its sleek, modern design, with user-friendly software that ensures businesses run optimally. The standard Clover Station bundle includes everything required to successfully process payments and manage your business, including the tablet, cash drawer, printer, plus a barcode scanner for gift card transactions and inventory!

Clover Mini
Clover Mini is the most advanced payment terminal with all the Clover features – great design, intuitive touch-screen interface, access to the Clover App Market, leading product specifications and integration with the full line of Clover products. The basic terminal package can be upgraded to the cash register package at any time, making it a truly dynamic, long-term solution.

Clover Mobile
Now, you can utilize Clover's business-building features in a compact, mobile device! Clover Mobile may be used as a standalone terminal or as a complement to the Clover product line. This solution is designed for mobile businesses, restaurants for paying at the table, retailers for line busting, on location events, and other markets that are consistently on the go.

Clover Go
Securely accept credit and debit cards, including EMV chip cards, from your smartphone or tablet! The Clover Go card reader is simple to use and includes all the features you're looking for in a mobile payments tool – the ability to email or text receipts, set custom tip and tax rates, employee permissions, and more. Transactions and activity also sync with the Clover dashboard, so you still have access to valuable data and sales history.

Clover Go All-in-One
Take your business further with the new Clover® Go "All-in-One". Supporting key Clover® payment capabilities, this blue tooth device fully integrates with other Clover devices and connects wirelessly to your mobile device to accept swipe, EMV and contactless payments with ease. Plus, track your business performance with intuitive reporting, data and insights in the Clover® Dashboard.

The Revel System is an iPad touch screen point of sale system which can manage payroll, track inventory, and boost the security of your business. It can definitely help you in getting the analytics you need to be able to grow your business successfully. This Revel iPad POS system is guaranteed to a one hundred percent PCI compliant and flawlessly switches functionality from cloud to offline. Its sounds so easy, right? That is how good this POS system is. They are an award winning in it comes to customer service and they want to keep it that way.

No Server for Back Office. Being protected with cloud-based security, Revel POS gives you freedom with regard to the server of the back office. You can manage your business even you are at home, on a vacation or anywhere you are.
Robust Reporting. Revel iPad POS system provides comprehensive sales reports, employee scheduling and inventory levels. They have an easy to read breakdown of analytics, from the hourly sales up to complete most historical order of customers.
Always On. Revel iPad POS system is cloud-based paired up with local connection. Just imagine the speed of transaction your POS can get with this exceptional feature. This system seamlessly switches functionality for cloud to offline unlike any other systems around today.